The OMEGA PAD

A complete system for readings & performance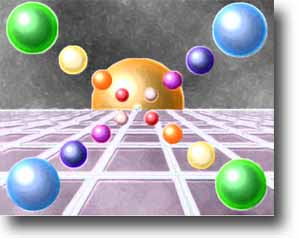 What is the OMEGA PAD?
At its most basic level, the OMEGA PAD is the platform for a no-brainer method for creating legitimate magic squares that can be used for readings of any length. The beauty of the OMEGA PAD, however, is that it is both a modular and open system that can be used for any number of applications, ranging from entertaining mentalism to genuine psychic readings. How you use the OMEGA PAD is really up to you, and how you wish to be perceived by your public.
As an idea-starter, each OMEGA PAD comes with a copy of "The Omega Papers" -- a 70-page account of the inscrutable Dr. Omega that contains full details on the many applications he used the OMEGA PAD for. Here are just a few:
• Private readings
• Psychic fairs
• New Age workshops
• Public performances
• Radio and TV appearances
If you're already using an "instant" magic square in your performances, you know how audiences are fascinated by the 4X4 grids and the 20+ ways the rows, columns and quadrants add up to the same number. If you use an "instant" magic square in your walkaround work, you also know that the magic square that is personalized for the individual spectator is a natural giveaway, and something they will keep and show to their friends.
And if you've been using the instant magic square for any length of time, you also know that its one weakness is that if a number of people compare their personal magic squares OR if they see you perform it more than once, it doesn't take a rocket scientist to figure out how you're able to perform this mathematical wonder.
The OMEGA PAD eliminates this inherent weakness of the traditional magic square by enabling you to create an endless number of OMEGA MATRIX magic squares, and each one is different because the magic squares you create are legitimate, not "pseudo" magic squares. What's more, each OMEGA MATRIX magic square is customized to the individual spectator's own personal numbers, which will guarantee that they will hold on to it for a long time. And since each OMEGA MATRIX tick sheet has room for your own contact information, they become walking advertisements for you and your services.
I've always thought that the magic square is a fascinating phenomenon, and felt that it has a great deal of potential for the astute professional psychic entertainer. Still, there was something about the typical presentation (i.e., "See how fast I can create this mind-boggling array of numbers? Aren't I amazing?") that left me a little cold. As more and more of us are finding out, the key to a compelling presentation is to make the individual feel special about themselves, and that is where much of the OMEGA PAD's potential beauty lies.
Based on Richard Webster's seminal work, "Talisman Magic" (originally published in 1995, and now out of print), the OMEGA PAD is a natural vehicle for creating real magic squares that are ALL about the individual or audience you are presenting to. Everything you need to create the magic squares and turn them into genuinely accurate readings is built right into the design of the OMEGA PAD.
The OMEGA PAD is also an excellent way to teach yourself the legitimate art of numerology. After one evening familiarizing yourself with the OMEGA PAD system, you'll be able to give personal readings right away, and with each reading you'll incorporate more and more of the basics of numerogy into your personal knowledge base. If you were to use the OMEGA PAD at a single psychic fair, you would be well-versed in numerology by the end of the day -- and well compensated, too! And, unlike a deck of Tarot cards, you will always have that knowledge with you, which means that you will always be prepared for impromptu presentations.
---
Here's what some people have said about their OMEGA PADS...
"I have no financial involvement in the OMEGA PAD, but think it's an excellent product, which you should know about ... No memory work is required as the pad cleverly contains all the information necessary to construct and then interpret the magic square. This no-memory aspect is excellent, as I know well how your brain can turn to cheese after doing readings for several hours.
I think the OMEGA PAD is extremely commercial, and it can be done anywhere, at any time... You will find this pad invaluable if you do readings of any sort, as it takes up virtually no room and can be used on its own, or as an adjunct to any other reading.
It is also invaluable to anyone who wants to give readings but hasn't started yet, as everything necessary to give effective readings based on the person's date of birth is included in the OMEGA PAD.
The OMEGA PAD package even includes all the necessary artwork so that you can produce a professional-looking four-color product that will be kept forever."
Richard Webster
"I just finished reading the manual that comes with the OMEGA PAD. It's called "The Omega Papers", and is written as though it is an investigative report on Dr. Omega. I found this viewpoint to be very engaging and very informative.
'The Omega Papers' details how to perform one-on-one readings, house parties, and stage shows using the Omega Pad. This is all written as though the reader had attended some of Dr. Omega's performances.
I like it!"
Millard Longman
If the only application you used your OMEGA PAD for was private readings, it would pay for itself very quickly. The beauty of the OMEGA PAD, however, is that it can be used for so much more, and I suspect that the applications detailed in the manual are only scratching the surface of its potential uses.
Is the OMEGA PAD right for you?
That's a tough call, especially since each of us has different tastes and requirements. While it can certainly be used in performance situations, I believe the OMEGA PAD's greatest strength is in the area of private readings. For this reason, I would strongly advise that you not get the OMEGA PAD if you are looking for something to go with your latest wallet or book test purchase.
Although many who saw the original OMEGA PAD talked about its potential as a collectible, it is really designed for the person who will actually use it in a professional working capacity. I hesitate to use that much-abused phrase, "the real work", but I will state with confidence that the OMEGA PAD is in fact designed specifically for "the real worker."
When I brought five OMEGA PADS to the annual ICBM Gathering in Connecticut, they were sold within two hours of my checking into the hotel -- they didn't even make it to my dealer table the following day. What I found especially interesting was a characteristic possessed by each of the five purchasers: they were each professional readers who recognized the potential of the OMEGA PAD.
One of them works the Salem, Massachusetts market, which has a reputation for having a psychic on just about every corner, and he said, "I need something that will set me apart from all of the Tarot and palm readers, and this is it."
He may not have realized it, but that's exactly why I developed the OMEGA PAD in the first place. I had been appearing at psychic fairs for a number of years, and while I love doing Tarot and palm readings, I noticed that at least 85% of all the other readers were doing the exact same thing. In that situation, the buying public starts to see you as just a commodity, one of a crowd offering the same thing, and you need something distinctive to offer. The OMEGA PAD has allowed me to do just that... and it can do the same for you, too.
---
What You Get
The OMEGA PAD Standard Edition
Everything you need to present compelling readings and performances is included in the Limited Edition package:
• The Standard Edition OMEGA PAD, complete with cue sheet and template
• A CD containing digital versions of "The Omega Papers" manual, OMEGA MATRIX tick sheets (PDF and Microsoft Word versions), the OMEGA MATRIX pitchbook, and a 30+ page "Omega Papers Addendum"
Click here for full details on
The OMEGA PAD Standard Edition
---
How To Order The OMEGA PAD
The OMEGA PAD is an exclusive, custom-produced product, and available only through The Pro Shop.
However, due to the labor-intensive nature of producing the OMEGA PAD, I don't make a lot of them. You'll understand when you see the critical component that does all the work for you. As such, this is a truly limited offer for the simple fact that I don't always have them in stock. If I do have what you're looking for in stock, you'll probably receive yours within a week or so, but depending on my schedule and the availability of materials, it may take anywhere from 4 to 6 weeks to produce and deliver a OMEGA PAD to you.
For this reason, the only way to order is to send me an email at info@mevproshop.com. I will email you back with the availability, expected delivery time, and a link to a web page from which you will be able to order. Payment may be made via PayPal (which also accepts most credit cards) or money order.
One might say, "That's a somewhat unorthodox way to do business", and I would have to agree with you. I would also point out that the OMEGA PAD is something you most definitely won't see every day, and is well worth the wait and the somewhat unorthodox ordering process.
If you feel the OMEGA PAD is right for you, and would like order one, please feel free to email us.
P.S. Be sure to sign up for the Pro Shop newsletter (if you haven't already). It's our exclusive newsletter filled with tips and ideas for increasing your income, PLUS lots of free stuff that you will be able to use instantly to bring even more success into your life. (We NEVER sell, rent or trade any of your personal information. For details on our privacy policy, click HERE.)